We all know how cheesy family photos can be. We cringe at the internet mocking families who have matching flannel shirts in front of a fire, or families that pose like back up dancers with their arms crossed. You can't help but think "I am so glad that isn't my family going viral." Okay, so how do you create a family photo that is creative, yet tasteful? There are many ways to capture a unique family photo you can use for Christmas cards, new years updates or even just portraits for the house. Here are some ideas on how to capture a tasteful, creative family photo:
Candid Family Photos
The most natural way to capture a family is the candid way. Have your kids play in a beautiful setting and allow your photographer to snap away. Organic photos of your kids actually laughing are the best kinds of photos! SIt down with your partner and let your children climb on your back, make a pig pile! Have fun so the photographer and capture the natural happy emotions from your family.
Use Fun Props
Props can be a fun way to portray hobbies and the lifestyle of your family. Let your kids play with or hold on to their favorite toy. If your family like to golf, take some pictures on the golf course, or if you kayak, pose on a kayak on a river. Using props is an easy way to get your family to pose naturally and in their element.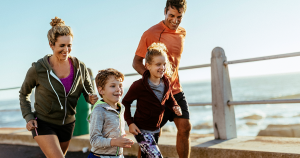 Up Close and Blown Up
Get up close in personal and blow your photo up! This is a technique that is really trending. Select a photo of everyone in your family smiling big and blow it up focusing only on the faces. These make for great framed photos for your house and the blown up approach is always very tasteful. You can also print cropped blown up photos separately and frame them side by side on your wall.

Upload Your Family Photos On Canvas Now!